We are organising again!
After some troubles in the house and some misunderstandings we found us again.
We changed our name for a new start!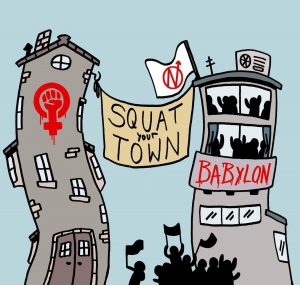 Why we call us Azadi?
Azadi is meaning freedom in Farsi and Kurdish language. We took this name because the most of our residents are Iranian and Kurdish Families!
Freedom of movement- Freedom of ourselves- Freedom of our minds is what we want.
so this is why we meant this gonna be a good name for our house!
We are in the process of reorganizing ourself. We are a selforganized community of international people who opened this house to give a safe shelter for woman and children!
we have some rules in the House:
No Violence
No Sexism
No Racism
No Drugs
This is the main consensus of the people who are living in this house. This time we are around 50 people living peacefully together. Most of us are woman and children.
We are on the way to set up the house in a good living standard for everyone who is having a room in the building.
Currently we are not able to take new people in the Squat. But we are able to take care of those who are living inside!
What we need:
Blankets/ Bedsheets
Pillows
Mattresses
Lamps
Soap, Shampoo
Woman Hygiene Pads
Kitchen Equipment
and urgently we need food donations!
We are happy to get dried food donations from Pamperaki !
But unfortunately this is not enough! If you could help us with food donations we would appreciate to get in contact with you!
With Love and Solidarity
Azadi